5 Ways to Improve Your Relationship this V-Day at MBS Yoga
If you've ever practiced yoga, you know that in addition to being a great way to workout and stretch, it also almost always leaves you feeling dreamy and blissful. Moving consciously with your breath, getting out of your head and into your body and then surrendering into full relaxation is one of the best ways to align and unite mind, body and soul.
Yoga (translated to "union" in Sanskrit) is a science and set of practices designed to lead us into conscious connection with ourselves and others. So there is no better time to practice Yoga than in the month of love with someone you love…
Below you'll find 5 reasons practicing the movement, play, breath, touch and communication involved in partner yoga  will improve your relationship:
It Strengthens Emotional Support Through Communication and Physical Touch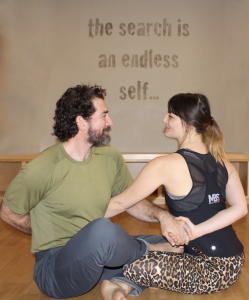 Partner yoga requires full participation of both people to the best of their ability. All yoga poses require the combination of strength and flexibility, and a balance of steadiness and ease. You must work together to create one posture combining each of your own measure of strength and flexibility. Because levels of ability in each area may be different, to achieve a pose successfully and safely, partners must practice empathy, support and clear communication. Here, Josh Levine, Founder of MBS Fitness (including MBS Yoga & MBS Pilates) and Crossfit MBS, and Sales & Marketing Consultant, Anne Wolfe-Andersen find stability in a complicated seated twist.
It Improves Communication and Builds Trust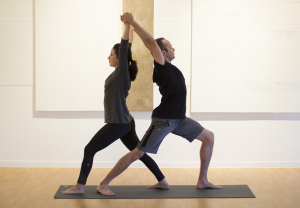 Even a simple pose can be difficult when you can't see what your partner is doing. In partner yoga, you may not always see or know exactly what your partner is doing even while sharing an experience together and most importantly- relying on one another! It's a practice ground for building trust and learning to find connection even when you're apart. It took MBS Yoga Teacher, Ellen Wise and boyfriend, Jared a little trial and error to make these mirrored warrior poses align.
It Helps Establish Balance and Reciprocity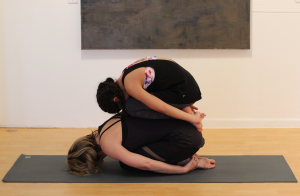 We all play different roles for each other through the course of a relationship. Sometimes you need someone to lean on, sometimes they lean on you. Partner yoga provides an opportunity to communicate about what your role should be in a particular pose or situation as well as to try out different roles. Above, MBS Yoga Student, Robin and her daughter, Kylie act out the foundational support a mother gives her daughter.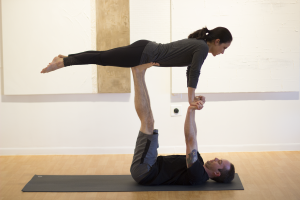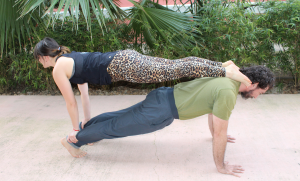 It Helps You Learn to Let Go
Finding the right fit sometimes requires partners to let go of their own ideas of how things should be, or how their partner should be. Practicing yoga with a partner means practicing acceptance for what the other person brings to the mat, letting go of perfection and allowing your shared creation to just be what it is meant to be in those moments.
It Creates Shared Moments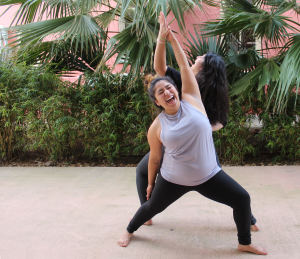 Most importantly of all, practicing yoga with someone you love gives you the chance to build memories together and have fun. Science has shown that you build more lasting memories the more sense modalities are engaged at the time of the experience. Partner yoga uses touch, sound, sight and maybe smell! No matter what, though, partner yoga gives you a chance to laugh and connect. MBS Yoga Teachers, Natalie Flores and Caitlyn Garrison have been best friends since they were 12 years old.
Oh, and sometimes, your partner is your animal companion. Don't miss out on these special moments on or off your mat!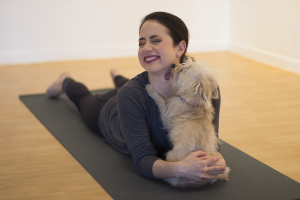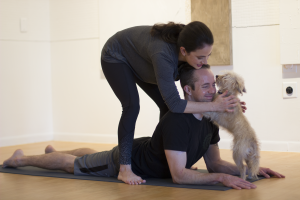 Come practice yoga with someone you love this Valentine's Day at MBS Yoga in a special class featuring yoga teacher Martha Combs & mindful musician Adam Tutor in a fun and relaxing practice of fluid movement (Vinyasa), partner yoga, and restorative Yin postures. Click here for full details: Love, Sax & Yoga at MBS Fitness.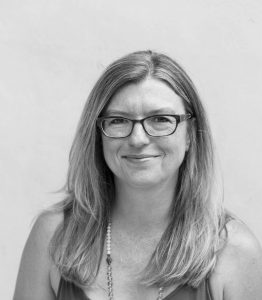 About the Author: Lesley Nicole Ramsey gets up before her chickens at least three days a week to teach 6am Yoga and Mind Body Soul Yoga Studio in King William. Getting up early gives her more time to grow vegetables, work on a memoir, and these days, watch lots and lots of Game of Thrones.