MBS February Fitness Challenge: Farmer's Walk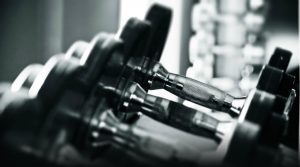 FARMER'S WALK FEBRUARY
Well, so far for our monthly fitness challenges, we've rowed, pushed, and run, so how about a little walk? Can't be too hard right? Well… think again! 
For our February Fitness Challenge, we're taking on the farmer's walk; a seemingly innocuous little drill that we scale to accommodate anyone's fitness level. Your goal (as always) is to improve your performance over the course of the month. And since we only have 28 days this time around, we better get started asap!
STAY INJURY FREE: PROPER POSTURE IS KEY
The best way to make sure we're injury free, have no major postural or lower limb issues, and know how to get into solid neutral posture is to work with a Personal Trainer.
If you insist on doing it on your own, below you will find the best practices for posture: 
When we stand up tall and straight, our ears are over our shoulders

Our shoulders are over our hips

Our hips are over our ankles
We also need to: 1. lock our scapula in place, and 2. hold our 'proud chest' position before we load and begin our drill – a slow, steady 30 second walk using dumbbells or kettlebells.
Ideally, when you're doing your farmer's walks, you should look like the pic below…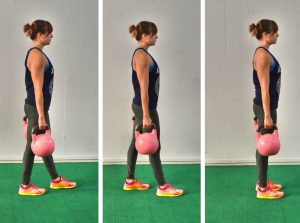 During this exercise, the key is to keep that tall posture from head to toe, to step slowly and steadily, and not rush the movement in any way. Easy enough, right?
THE CHALLENGE IS THE LOAD
But the challenge is the load. Your goal by the end of the month is to be able to carry anywhere from 50 – 100 percent of your bodyweight for a solid 30 seconds in perfect form. (For a 200 lb. person, that would mean loading up with a 50 – 100 lb, dumbbell in each hand.)
Doing so will challenge everything from your core to your grip strength and everything in between.
This can be more challenging and grueling than you expect, so it's not a bad idea to start with 25 percent of bodyweight and work your way up from there.
If you're super tough, you may even surpass full bodyweight and can work your way up to 110, 125 or even 200 percent of bodyweight using something like a loaded hex bar if needed. 
Give it a shot, and see how you do. By the end of the month, you'll have a new appreciation of upright posture and will be strong enough to work the posture for hours on end. Remember: You're stronger than you think! Good luck!