Adam Tutor brings talent and heart to the yoga mat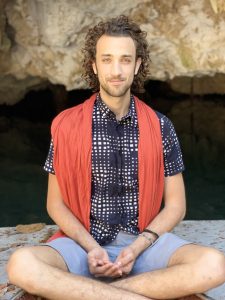 We are pleased to welcome the multi-talented Adam Tutor to the MBS family in his newest incarnation as a yoga teacher. Adam recently graduated from the Hamsa School of Yoga. Here he is in his own words:
My name is Adam Tutor, and I am a warrior with an open heart. My mission is to help all beings realize Oneness with each other, our Earth, and the Divine inner-light. I shine that light most radiantly as a musician, yogi, meditator, children's educator, and community leader, uniting hearts through the eyes of Love.

I have currently planted roots in San Antonio, TX as the leader of a nonprofit that is helping youth artists acquire the tools, belief systems, and opportunities necessary to make a career in the music industry. As an educator, I innovate workshops for children through an original curriculum called Imagination Station, a place where we discover music through the soul of a child.

My work outside of the classroom is through healing as a mindfulness musician and meditation facilitator. I create spaces for stillness and silence in order to support our quest for freedom from anxiety, fear, and the shadows that keep us small. I have pledged my life to help all individuals, especially men, uncover the yearning in their hearts and ignite a fire of unconditional Love and service to the world.
Adam is teaching Yin and Yang Yoga on Monday nights over Zoom. Here's a introduction he offered in this week's class: