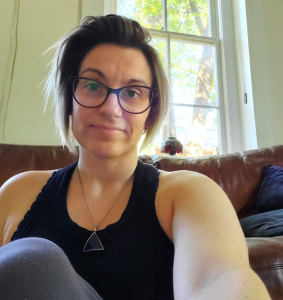 MBS is excited to welcome Nicole Coppi to our team! Nicole is available for private sessions of Pilates or Yoga, and is a certified iRest Yoga Nidra practitioner. We are so lucky! You will be, too, when you work with her!
MBS: What made you want to be a pilates/yoga teacher?
I wanted to be a yoga teacher to share the incredible benefits of coupling breath and movement to create a clear headspace. I became a certified hatha teacher in 2013, kundalini yoga teacher in 2014, and iRest Yoga Nidra level 2 (guided meditation) teacher in 2018. As my yoga practice advanced, my interest and education moved toward meditation and my physical practice softened. My interest shifted to Peak Pilates (classical) as a means of strength training that my yoga practice was no longer meeting. I now see pilates as a way of movement, a way of holding and engaging your body that can be taken into any movement modality. Pairing pilates with yoga and weight training has been a game changer for my body.
MBS: What is your unique approach to your clients?
My unique approach to my clients is the breath. Your breath is your fuel in any movement practice and if you can tap into the rhythm of the breath, you can make any movement a meditation which will also hold tremendous benefit for your central nervous system. Your breath will also tell you the limits of your strength and flexibility: if you're holding your breath or can't breathe, your range of movement is spent.
MBS: What advice do you have for people who want to make dramatic changes in their health and wellness?
Habits are EVERYTHING. Your habits are either steering you toward your goals and dreams or away from them. Small changes over time lead to long lasting change and improvement. Don't try to change everything overnight, but add or subtract one thing at a time to create a system that is working toward your highest good. I recommend James Clear Atomic Habits
MBS: What stretch or warm-up/cool-down move should everyone be doing as part of their fitness routine?
Forward folds, stretch your hamstrings every day! It's okay to keep your knees bent and it's okay if you don't touch the ground. My oldest yoga student was 104 and let me tell you, when it comes to strength and flexibility, if you don't use it, you lose it. The moment you can't get yourself off of the ground, your freedom as a human adult is gone.
MBS: What motivates you every day?
What motivates me everyday is what is to come. I've met many challenges personally and professionally because of covid and now that I've been through the muck, I'm ready for the fruition and manifestation of my faith, my prayers, my positive attitude and of all my hard work.
MBS: How do you motivate your clients?
I like to get to know my clients to see what motivates them personally. For example, I have a student who is a business owner and when we are lengthening on the reformer, I give her the visual of reaching for that $100 bill for her next quarter million. We usually get a good laugh and it's what motivates her to work hard. Building a personal relationship with the clients and understanding their motivators makes me a better coach, teacher, or mentor for that particular client.