MBS welcomes Caty Wirth Shelton for Pranayama in the Park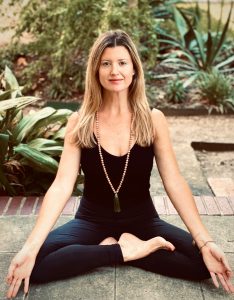 There is a hint of fall in the air, and after months of being cooped up inside, because of the HEAT or quarantine, we know everyone is itching to get OUTSIDE!
Pranayama in the Park offers the salve you need for the stress of the past several months, as well as a iteral breath of fresh air — several — to reinvigorate and rejuvenate you.
Pranayama is a breath practice that is part of the yoga tradition. Pranayama helps to regulate the body's nervous system and is a helpful precursor to meditation. Through pranayama, the parasympathetic nervous system is activated to help calm the body, which in turn promotes physical and mental ease and reduces stress. In addition, it often awakens a sense of spirituality.
We are thrilled to welcome Caty Wirth Shelton to guide you in this healthy, mindful practice.
Caty recently graduated from the Hamsa School of Yoga and Ayurveda with a 500 hour RYT certification. Her primary focus is teaching pranayama meditation and traditional Hatha yoga asana. She is also trained and certified in healing breath therapy and energy work. From her own journey, Caty believes that through the practices of yoga and Ayurveda, one learns self awareness and self care, and is therefore more capable of transforming into the truest, healthiest, and most radiant version of themselves.
Pranayama in teh Park happens on Thursdays at 6 pm at Cathedral Park. Sign up here!