BACALART SA
December 12th – February 28th
BACALART SA is the 2nd iteration of BACALART MEXICO, the first digital eco-artistic festival linking France and Mexico in an original experience in the service of our ecosystem. For the first edition, we chose the small town of Bacalar in Mexico, where the lagoon is changing its face due to poor management of wastewater, waste and growing irresponsible tourism.
BACALART SA is curated by Catalina Sour Vasquez, presenting works by:
Alice Louradour
Carlo Amen
Caroline Derveaux
Catalina Sour Vasquez
David Aiu Servant Schreiber
Diane Merli
Jorge Villarreal
Pauline Miko
Stef Crosa
Valentine Huyghues Despointes
Supported by the French artists' collective META, BACALART is a local cultural solidarity action with an international scope, conveyed through the prism of art, music and innovation BACALART is an artistic experience without limits or borders; a travelling festival that offers, once a year, an unusual event in a locality with a fragile ecosystem: a time capsule of awareness and sharing broadcast live at the heart of a residency meeting between artists from a specific country with French artists.
Exhibition Archive
Inspirations & Memories: A Remembrance
March 2, 2020
---
"When I heard the news that Katie Pell had passed away I was alone in the desert at dusk. She had been an inspiration to me since the day I met her nearly fifteen years ago. Though our personalities were different and we pursued life in different fashions, what we had in common can be encapsulated by the memoriam in the The Current, we "drew inspiration from nature, childhood memories, personal mythologies, identity, imperfection, and reinvention." 
"I asked myself how could I honor this amazing artist, this legend of San Antonio? I took this picture, committing to see the world how Katie did, giving it the title, RIP Katie Pell.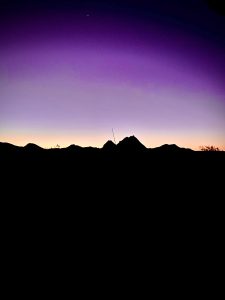 "For the first time I realized I could be a nature photographer through the memory and inspiration of what Katie's life personified. "
~ MBS Owner, Josh Levine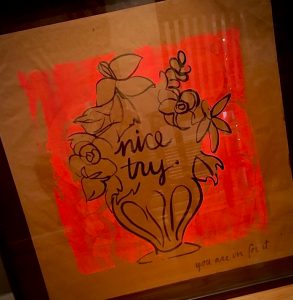 MBS Gallery's private collection of Katie Pell artwork will be on display, plus pieces on loan, and new works inspired by her memory.  
Jorge Villarreal will show watercolors began while at Blue Star Berlin Residency in 2019. He experiments with wine and coffee as his color base to make whimsical pieces of beauty.  
Josh Levine will show his first nature photographs. 
Opening, First Friday, March 6th and special closing reception Saturday, March 28th. Stay tuned for more details through the gallery website.
At MBS we believe wellness requires a holistic approach that integrates the needs of mind, body and soul. Strong bodies need strong hearts, both physically and metaphorically. At MBS, we offer personal training, pilates and yoga to strengthen the body in balance with the mind and heart. Our yoga studio doubles as an art gallery featuring stimulating works by contemporary artists to create a liberating atmosphere for creative movement, and encouraging soul-nourishing introspection and relaxation.
NIGHT MOVES | Brian Caron
December 19, 2019
---
A collection of nighttime images captured in San Antonio. They evoke a surreal space, somehow both desolate and alive. Light and color jump out of a hot, still South Texas night. As the city grows and changes, these structures may no longer exist, they may turn into the same strip malls, and parking lots in Anywhere USA. These photographs are meant to preserve what we have now.
SUBJECTIVE TIMBRE | Amada Miller
March 1, 2019
---
Subjective Timbre is an exhibition of works based on the color dualities of Johannes Itten's theory of color. Using naturally derived and synthetic dye processes, Miller will employ fiber and sculpture to explore an individual's preferred color combinations.