BACALART SA
December 12th – February 28th
BACALART SA is the 2nd iteration of BACALART MEXICO, the first digital eco-artistic festival linking France and Mexico in an original experience in the service of our ecosystem. For the first edition, we chose the small town of Bacalar in Mexico, where the lagoon is changing its face due to poor management of wastewater, waste and growing irresponsible tourism.
BACALART SA is curated by Catalina Sour Vasquez, presenting works by:
Alice Louradour
Carlo Amen
Caroline Derveaux
Catalina Sour Vasquez
David Aiu Servant Schreiber
Diane Merli
Jorge Villarreal
Pauline Miko
Stef Crosa
Valentine Huyghues Despointes
Supported by the French artists' collective META, BACALART is a local cultural solidarity action with an international scope, conveyed through the prism of art, music and innovation BACALART is an artistic experience without limits or borders; a travelling festival that offers, once a year, an unusual event in a locality with a fragile ecosystem: a time capsule of awareness and sharing broadcast live at the heart of a residency meeting between artists from a specific country with French artists.
Exhibition Archive
MBS Community Altar commemorates our shared losses of the past year
October 12, 2020
---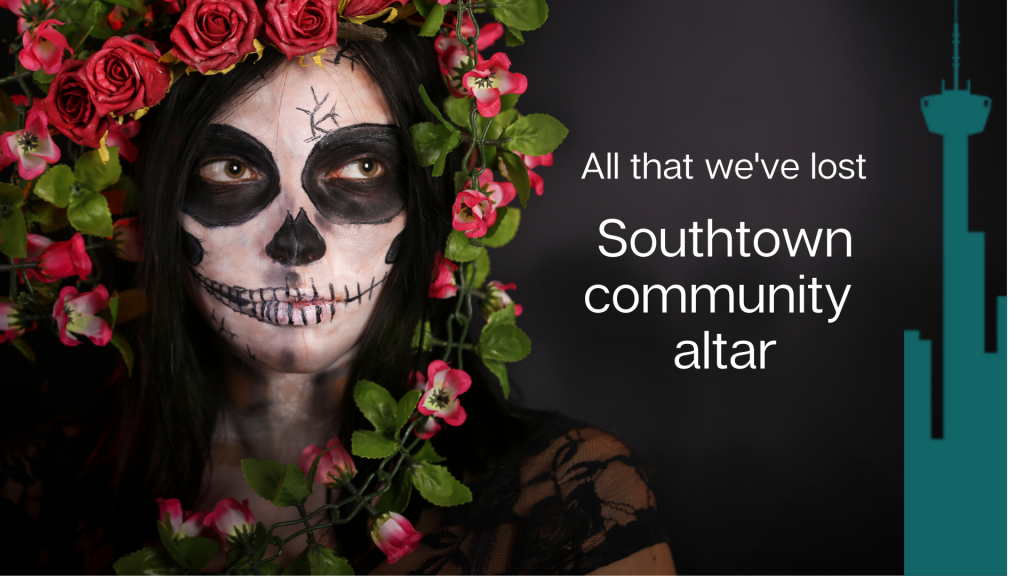 It's October, in a year no one can say has been easy. The Covid-19 pandemic has impacted all our lives in so many ways.
After more than six months of economic contraction, psychological strain and a certain amount of isolation, we at MBS are feeling called to community, and also to the need to acknowledge the collective loss we have all experienced throughout this time. Many lives have been lost to Covid-19. Many businesses have suffered or closed up all together. All of us have felt the pain of isolation, the stress of ongoing uncertainty, and the real hardship of this pandemic on our lives.
This month, MBS is creating a Community Altar for Día de los Muertos outside the Art Gallery at out Southtown location. The altar will memorialize and celebrate the lives and businesses lost over the past year, including those who succumbed to the virus.
We invite you, our members and friends, to send us a photo and/or the name of anyone you'd like remembered on this special community altar. 
The altar will be up for you to visit and contribute to starting Friday, October 30, and stay up through First Friday, November 6. On those evenings, the Gallery will be open and you can see our latest exhibit. But, we invite you to come by any time! The altar will be outside in the breezeway for anyone to see it or add to it without a crowd.
Please contact Lesley at lesley@mbslife.com to add a photo or name of someone you'd like to remember, or to make any other small contribution to the construction of the altar. 
MBS Gallery presents: Mud and Fine Lines, Photographs by Agustin Reyes Seidler
September 9, 2020
---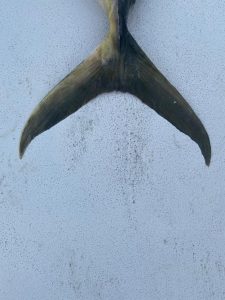 Mud and Fine Lines
Charity Art Event Benefitting Endeavors
w/ Raffle and DJ! 

September 17  |  7 - 11 pm
The Gallery at MBS, 1115 S. Alamo Street
Sponsored by MBS Fitness and IWC Cleaning

* In person * Due to Covid-19, we are taking precautions to ensure everyone's safety.
Please RSVP to info@mbslife.com so we know who to expect!

---
Join MBS Fitness and IWC Cleaning in this celebration of National Hispanic Heritage Month and recognizing Fotoseptiembre. We present photographic works of Mexican-born artist Augustin Reyes Seidler.
Agustin Reyes Seidler, was raised in Valle de Bravo on his family's Ranch. He completed his High school in California and Canada and attended College in Mexico City. In his young adult years, he later moved to Tel-Aviv, Israel. The majority of his creative process that took place in his persona was through hard labor, physical experiences and life itself.
Mud: beauty is everywhere, framing it well is a challenging goal. When one tries to bring life to a frame, suddenly the expectations are elevated, but we do our best. Life's a Journey.
Fine Lines: The moment something is named there is a limit created and set to its potential, precisely referring to anyone or anything. Therefore, art should be categorized by those who are able to understand its colors. We invite you to observe and experience all mediums freely of expectations.
Works from this catalog will be on view in the Gallery at MBS beginning Sept 17, and thereafter by appointment. You may also view and purchase works at our gallery website here.
This Charity Art Event benefits Endeavors, a San Antonio nonprofit that serves vulnerable people in crisis through an innovative, personalized approach. Endeavors restores dignity and improves the quality of life for the vulnerable people through a variety of programs including housing services, mental health services, disaster relief and services for veterans and military families.
Inspirations & Memories: A Remembrance
March 2, 2020
---
"When I heard the news that Katie Pell had passed away I was alone in the desert at dusk. She had been an inspiration to me since the day I met her nearly fifteen years ago. Though our personalities were different and we pursued life in different fashions, what we had in common can be encapsulated by the memoriam in the The Current, we "drew inspiration from nature, childhood memories, personal mythologies, identity, imperfection, and reinvention." 
"I asked myself how could I honor this amazing artist, this legend of San Antonio? I took this picture, committing to see the world how Katie did, giving it the title, RIP Katie Pell.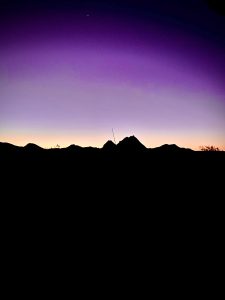 "For the first time I realized I could be a nature photographer through the memory and inspiration of what Katie's life personified. "
~ MBS Owner, Josh Levine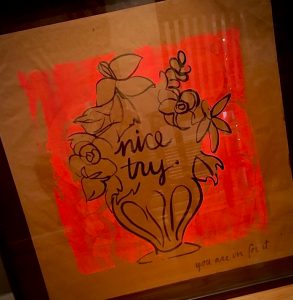 MBS Gallery's private collection of Katie Pell artwork will be on display, plus pieces on loan, and new works inspired by her memory.  
Jorge Villarreal will show watercolors began while at Blue Star Berlin Residency in 2019. He experiments with wine and coffee as his color base to make whimsical pieces of beauty.  
Josh Levine will show his first nature photographs. 
Opening, First Friday, March 6th and special closing reception Saturday, March 28th. Stay tuned for more details through the gallery website.
At MBS we believe wellness requires a holistic approach that integrates the needs of mind, body and soul. Strong bodies need strong hearts, both physically and metaphorically. At MBS, we offer personal training, pilates and yoga to strengthen the body in balance with the mind and heart. Our yoga studio doubles as an art gallery featuring stimulating works by contemporary artists to create a liberating atmosphere for creative movement, and encouraging soul-nourishing introspection and relaxation.