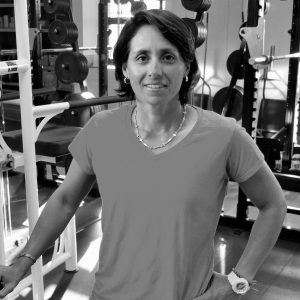 MBS: What made you want to be a personal trainer?
CPR: Honestly, it wasn't something that I thought about until after my undergraduate degree. I was a TCU grad with a degree in Neuroscience and not much career planning. I decided to go to graduate school and started researching graduate programs. I came across Kinesiology and it sounded very interesting. As a former collegiate athlete, it seemed right up my alley. Helping people feel more athletic and confidant in their own bodies is incredibly rewarding. That was 23 years ago!
MBS: What is your unique approach to your clients?
CPR: All clients are taken through a Functional Movement Screen which allows me to see how the client moves. They are also educated on how we are going to build a program that is specific to their goals, but that also addresses their limitations. I teach them that a house needs to be built on a solid foundation!
MBS: What advice to you have for people who want to make dramatic changes in their health and wellness?
CPR: It's a marathon not a sprint! Dramatic changes and small changes all start with small consistent behaviors that lead to the outcomes you desire. Focusing on little daily behaviors that are manageable is better than focusing on some lofty goal that seems out of your reach.
MBS: What stretch or warm-up/cool-down move should everyone be doing as part of their routine?
CPR: I don't think there is one great move that fits everyone. That being said, a majority of clients need work correcting rounded shoulders and stiff upper backs and tight hips!
MBS: What motivates you every day?
CPR: Keeping clients healthy, strong and pain-free. I try to be the solution for someone's fitness problem!
MBS: How do you motivate your clients?
CPR:  Honestly, they motivate me!  Making sure my programs address their wants but also their needs ensures that they get a good workout but also remain injury-free, and that is a big part of them staying healthy and motivated to train!
Want to work out with Claudia? You can usually find her at the MBS Fitness Alamo Heights location!