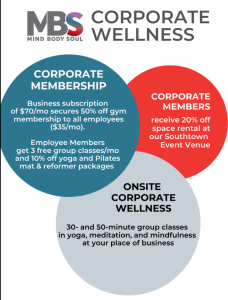 You might be familiar with MBS's corporate membership program: buy one membership at full price ($70/month) and all employees receive 50% off – only $35/month! – at our two convenient locations in Alamo Heights and Southtown.
But did you know MBS will also come to you? Our on-site classes bring yoga and meditation sessions right to your workplace–without the extra stress of additional commute time.
If you run your own business, you can understand how crucial it is to keep your staff in excellent physical health. The evidence of yoga and meditation on our bodies is clear: according to the American Heart Association, practicing yoga can help lower blood pressure, boost circulation, improve lung capacity and respiratory function, and improve balance.
However, supporting the well-being of your employees with weekly yoga or meditations classes at your business can take your staff from healthy to high-powered. Research at the University of California found that a regular practice:
Reduces stress, anxiety, and depression
Improves concentration, sleep, and self-confidence
Increases mental clarity, energy, and vitality
These weekly sessions foster ease in the body and mind, which in turn enhances personal and professional well-being in all areas, including productivity and creativity. Doesn't that sound like a benefit you could all use? We will work with you to understand your workplace culture and create a custom program that is right for you. We'll assess your needs and interests and build a class schedule that fits your budget.
For more about our corporate wellness program, contact Yoga and Southtown Studio Director Lesley Ramsey at 512-507-4185, or Lesley@mbslife.com.