Trainer Spotlight: Lori Crawley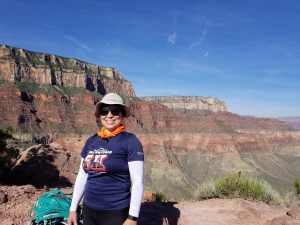 Personal Trainer Lori Crawley approaches her work with clients from the perspective of her own experiences. Having a daughter after the age of 40 has motivated her to stay healthy and strong!
MBS: What made you want to be a personal trainer?
LC: I think dramatic weight gain in early adulthood, losing family members prematurely and seeing my mother hit with Parkinson's made me want to learn more about health and wellness. Lack of knowledge can sometimes leave us stuck. If someone wants change, I wish to meet them halfway. I want to help people improve in fitness, strength and mobility. 
MBS: What is your unique approach to your clients?
LC: I try to show my clients that exercise can be fun with variety in exercises, types of resistance and plenty of encouragement to participate in activities outside of the gym. Ultimately exercise should be life long, so thinking of ways to make it sustainable is the goal.
MBS: What advice do you have for people who want to make dramatic changes in their health and wellness?
LC: It is ok to start off slow and easy. Once you start, you will feel better immediately. The mirror will reflect your consistency.
MBS: What stretch or warm-up/cool-down move should everyone be doing as part of their routine?
LC: Any dynamic movement that suspends your body weight. Ie. bear crawl, plank to down dog, etc. For individuals over 50 it is imperative to maintain mobility and flexibility, so for this group, they could work up to this type of movement through strengthening and core work.
MBS: What motivates you every day?
LC: The interactions with my clients and playtime with my 5yo.
MBS: How do you motivate your clients?
LC: I challenge and prove to my clients that they have the ability to progress. They get to see gains in their strength, weight loss on the scale and also perform exercises they did not believe they could do.