OWN YOUR RECOVERY with Diana Duncan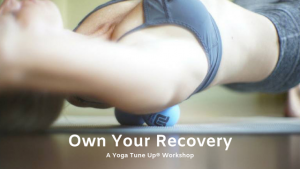 Movement Tools to optimize the performance of your athletic body
Tuesday, Feb 26 / 6:30 pm – 8 pm / $25
Does the idea of a dedicated RECOVERY PRACTICE sound strange? Do you even know what one could look like? 
A recovery practice can produce a lasting impression on your performance-driven body.  Recovery is an integral component to a well-rounded fitness plan, yoga practice, and self-care routine. A dedicated recovery practice can help you illuminate parts of your body that may be overused, misused, or abused so that you can reach your goals, sustain your gains, and stay out of pain. This practice is for all levels and offers movement, self massage, conscious breathing, and mindset training to create optimal conditions for your recovery.
This practice is suitable for all levels.
Therapy balls are provided for practice and available for purchase.
Register here.
Diana Duncan is a San Antonio-based yoga instructor who focuses on whole body wellness by applying the practices of movement, breathing and self-massage. Diana is a licensed massage therapist and an Upledger Institute trained craniosacral therapist. These practices help individuals develop a deeper self-awareness by using their own body as a pathway to self knowledge and healing. Diana discovered yoga and pilates almost two decades ago during her massage therapy training in New York City. Her ultimate goal is to cultivate confidence in her clients' knowledge of their own bodies and empower them for lifelong vitality and well-being.