Here we are in February! According to Forbes, 75% of us have already given up on our New Year's Resolutions! How does it happen? We begin the year with virtuous intentions, only to give up on becoming better versions of ourselves within the first few weeks?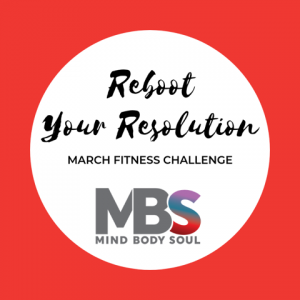 Don't beat yourself up. It's not too late!
As it turns out, there are several reasons resolutions can fail. One is that resolutions tend to be too vague or broad. Setting concrete, measureable, time-specific goals—and working on them consistently and with the support of a friend—sets you on the path to success.
Next month, MBS Fitness challenges you to Reboot Your Resolution with the concrete goal of attending 20 group fitness classes in the month of March. With an expanded group fitness schedule of 28 classes a week to choose from in March, and a fantastic discount, this should be no problem for high achievers like you!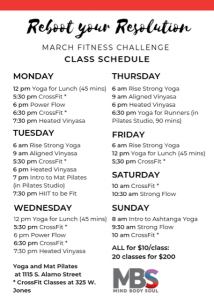 Purchase our March Fitness Challenge 20-Class Pack for $200—just $10 a class, or 30% off the drop-in rate. We'll celebrate your accomplishments with a special event for Challenge participants, as well as prizes for those who complete to 20 Class Challenge.
Attention Business Owners and Managers: We're creating a Team Competition for local businesses! Businesses that enroll 5 people at an even more reduced rate of $180 per person, will get their company logo on our new MBS March Fitness Challenge T-Shirt. We'll be posting about your team's progress on all our social media channels throughout the month of March.
Get it here!